Community | Company | Fruit
Golden Bay Fruit have ventured into juice!
Beautiful fresh apple juice just like the good old days, with no added sugars, no preservatives, in fact, nothing but apples and a pinch of vitamin C.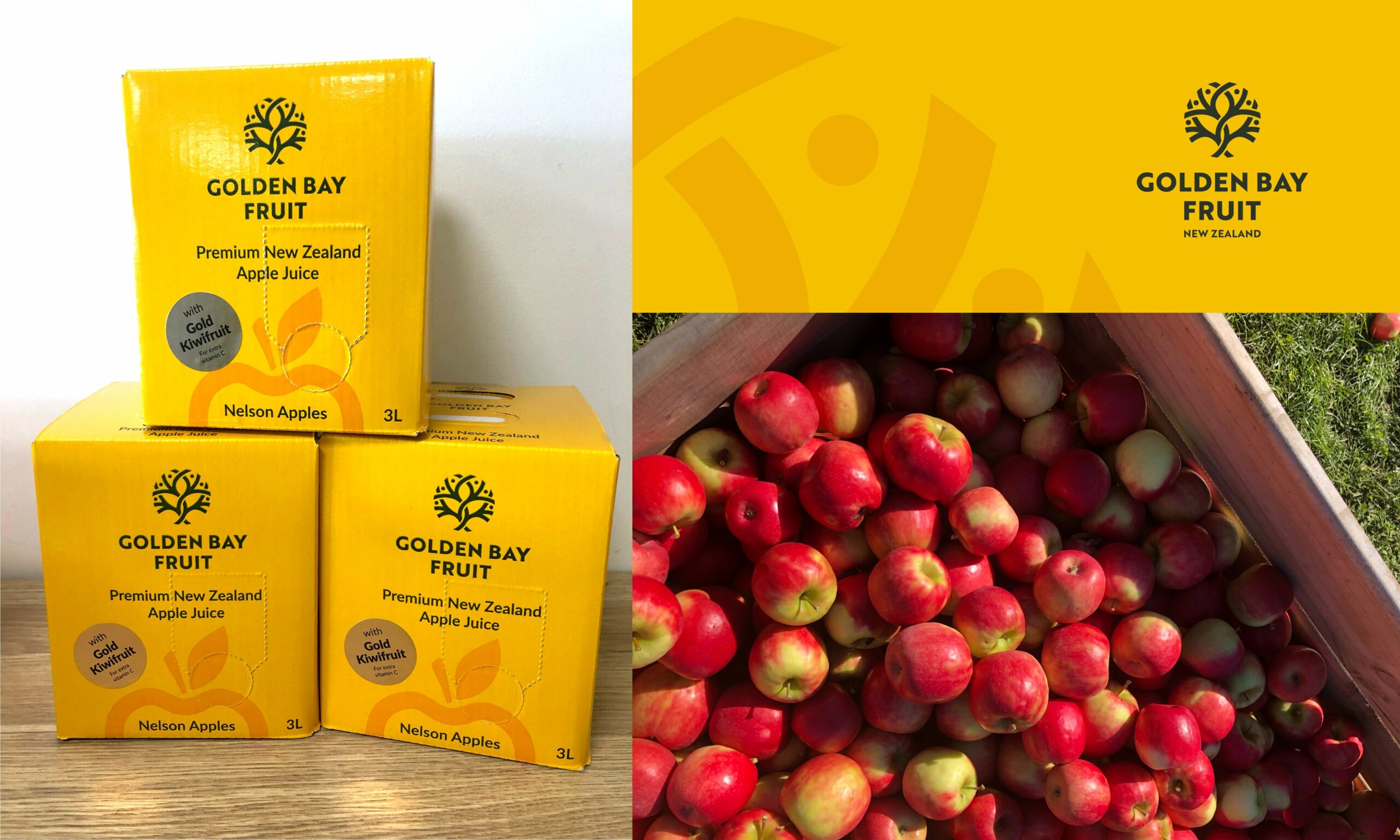 We're a local family business that cares about our environment and future generations and we're passionate about reducing food waste wherever possible. Sometimes a small cosmetic blemish makes an apple unfit for commercial sales, despite being full of flavour and nutrients. We wanted to capture the goodness of this fruit and share it with our community.
We have teamed up with local juicer Tasman Bay Food Co to press our apples and kiwis into pure apple and pure apple & kiwi juice available right here in Motueka. All of our juice is made from hand-picked apples and kiwi from the sunny Nelson Tasman region and pressed just down the road from the orchards where they're grown.
We are offering three flavours based on seasonality;
Apple & Gold Kiwi,
Pure Apple
Apple & Pear
All of the fruit used in the juices is direct from the Nelson Tasman region!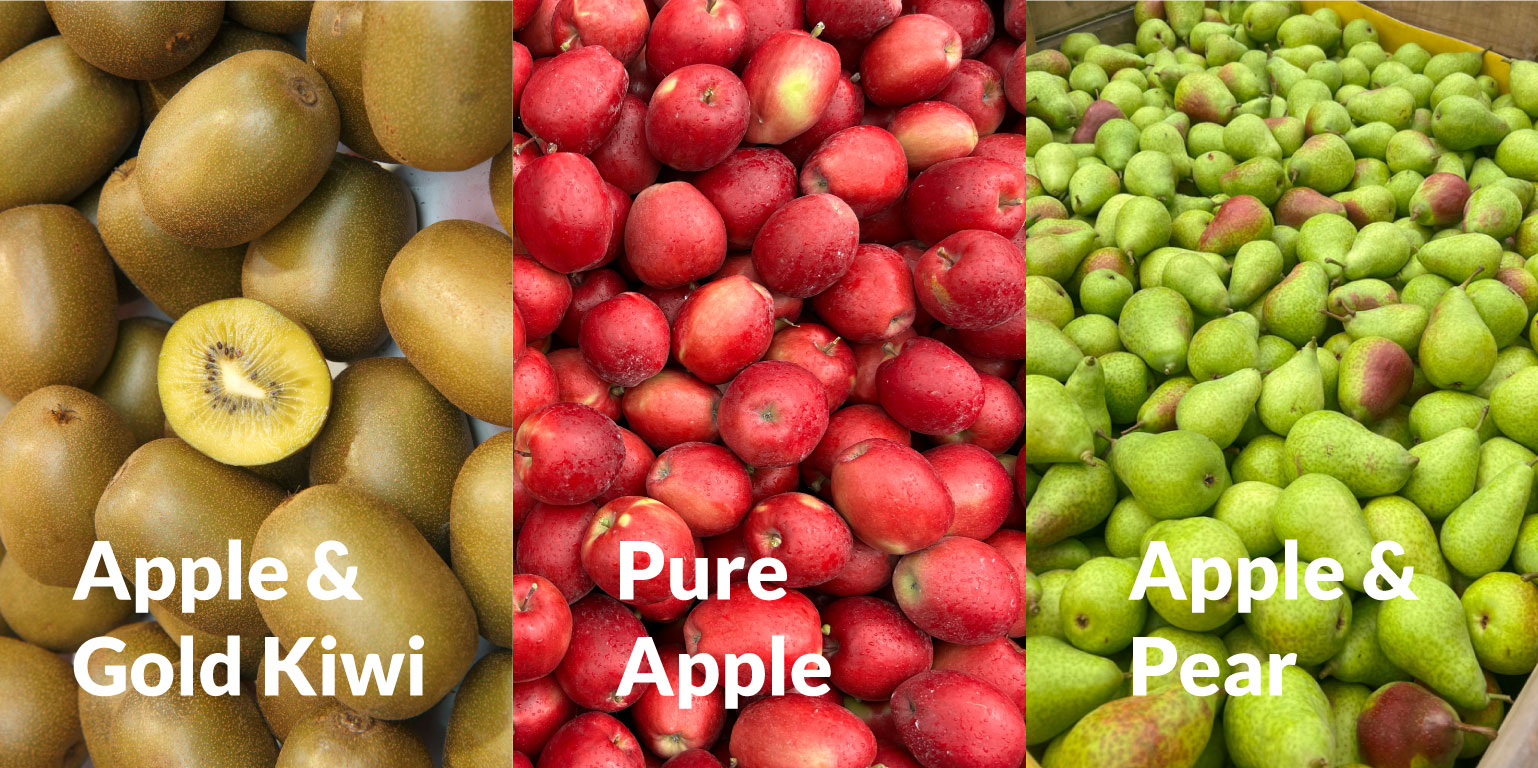 Our bag in box format
Our apples are pressed and then pasteurised for your safety before being filled on site into 3 litre bags. We then pop the bags into a compact 3 litre box with handle, making them easy to carry home or to a picnic. For our food service customers, they are simply stackable, saving precious space. Each bag is fitted with a tap, to easily pour a glass direct from the fridge shelf. Unlike a regular cap on a bottle, the tap has a special valve to prevent oxygen entering once open, keeping the juice fresh for weeks after opening. Before opening the juice, it has a shelf life of nine months(!) in ambient storage, making it convenient to keep a supply on hand.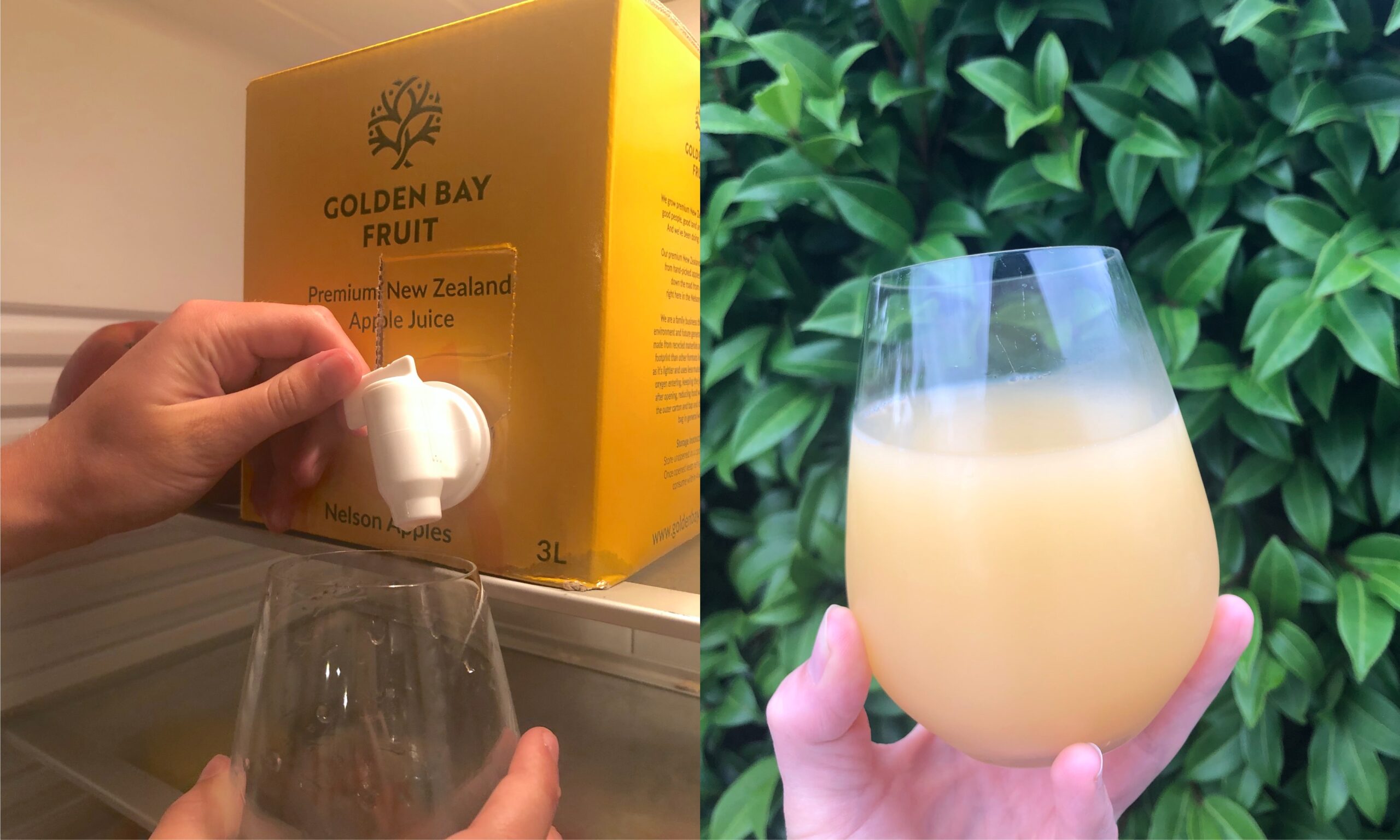 Sustainable Packaging
There's no silver bullet when it comes to the most sustainable packaging. We chose the bag in box format due to its environmental credentials, value for customers, practicality and to differentiate from other formats. The cask or bladder in box format has shown significant improvements in greenhouse gas emissions compared with glass in the wine industry.  Glass bottles require a large amount of energy to produce due to the high melting temperatures of the materials, whereas cask packaging is much lighter and easier to produce. Our 3L juice box is also a larger volume format than most, further contributing to lower emissions on a per litre basis. The triple valve tap prevents oxygen from entering the bag, keeping the juice fresh for up to six weeks after opening, making it a great option for families large or small and minimising the waste created with short shelf life products.  The outer carton is fully recyclable in your curbside recycling. The inner bag and tap can be disposed in general waste – though we are looking at alternatives that could be recycled in the future.
Look out for our sunny
yellow juice boxes at
Frasers Orchard Stall 
Mapua Fruit & Veg
Connings
Kaiteriteri Store
Nelson Food Distributors
River Haven restaurant
For commercial enquiries contact admin@goldenbayfruit.com